Apple iPhone reparatiekosten
* Als eerste in Almere hebben wij in 2020 speciale gecertificeerde apparatuur aangeschaft waarmee wij het Glas van uw iPhone Behuizing / achterkant (los) kunnen vervangen. Is alleen het Glas van de achterzijde van uw iPhone (8 en hoger + SE 2020) beschadigd dan hoeft vanaf nu niet de gehele behuizing te worden vervangen. Dit scheelt u aanzienlijk in reparatie kosten!
Contact informatie
Heeft u vragen of opmerkingen? Dan kunt u contact met ons opnemen via:
Marktgracht 22, 1354 BD Almere
Kies uw merk om de reparatiekosten te bekijken
Bent u opzoek naar een betrouwbare partij voor uw Smartphone, tablet, laptop en smart tv reparatie in Almere? Dan bent u bij ons aan het goede adres. Wij kunnen uw Smartphone, Tablet, Laptop of Smart tv snel weer voor u herstellen of repareren.
Neem dan contact met ons op of loop dan even binnen.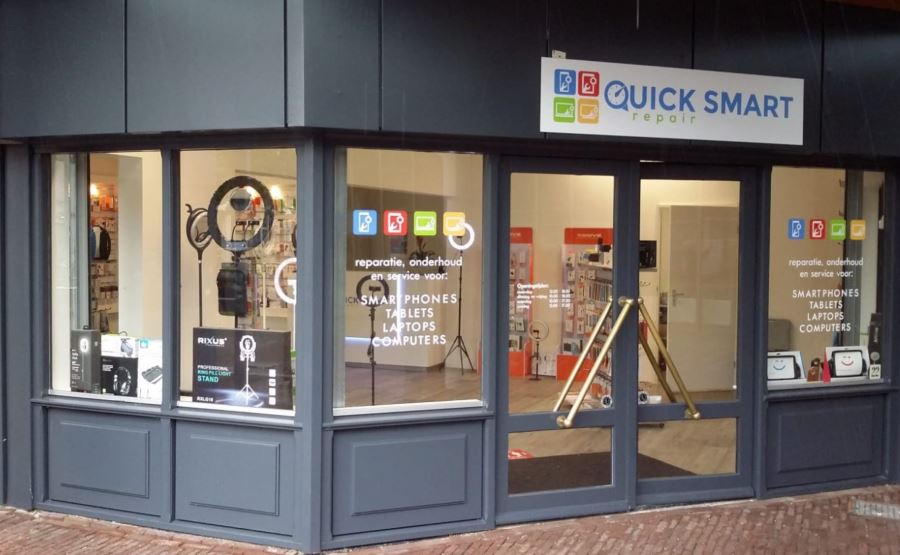 Waarom uw telefoon, tablet, laptop en smart tv reparatie bij Quick Smart Repair Almere?
Uiterst scherp geprijsd

Ervaren, deskundige medewerkers

Meestal klaar terwijl u wacht

In de meeste gevallen geen onderzoekskosten

Originele onderdelen

Reparatie op locatie (Dus geen lange wachttijden)

Gecertificeerd reparatiebedrijf

En meer…